We're on day 5,840 of shelter in place and today was the day I broke out the Magical Unicorn Recipes. We've done the puzzles, the board games the video games and it was time to switch it up.
I've learned the key to my sanity is to keep ideas packed away for when Reese gets bored and needs something new. Enter, anything unicorn! From unicorn slime (which has officially been banned in our house) to unicorn baking. If it has something to do with unicorns we've probably tried it because what tween girl doesn't love unicorns.
This week we decided to pull out the baking pans and test out a few magical unicorn recipes. If you're looking to get magical with your kids, check out this list. Some of the items are so easy you can let them loose in the kitchen alone (side note, cleanup not included).
Have a magical time in the kitchen with 18 Magical Unicorn Treats!
Listen, your kids not the only one who's hidden Brussel Sprouts inside their mash potatoes, or snuck their green beans under the table to give to the dog. Unfortunately, he didn't want it either, so they got caught because you have eyes in the back of your head! If this is your kid, I promise this Unicorn Veggie Dip Recipe will get them to eat ANYTHING!
This whimsical unicorn cake is super festive with its layers of rainbow cake, vanilla frosting, and Twinkie filling!
Your childhood dreams have come true with this unicorn toast recipe made with easy all-natural food dyes made from plants, fruit, and spices.
Unicorn Bark // Do It Your Freaking Self
This recipe is so easy to make Reese can do it herself. It's super colorful and looks even cuter with sprinkles and edible glitter. These are a fav for giving out at sleepovers.
This vegan Unicorn Frappe is pretty simple to make.  The trickiest thing is keeping your layers separate.  If they get too thin you can pop them in the freezer for a bit before layering.  Or you can just not worry about it and know that it will taste delicious anyway!
If your daughter celebrating a birthday during quarantine this unicorn birthday cake is a must. It's really easy to make and comes out really cute. What birthday girl wouldn't want to wake up to this. And, since we're all kinda down right now, pour a glass of milk and let her eat it for breakfast!
This is a great one for Easter, Spring, or just when you want Rainbow cheesecake lol. It's created from mascarpone and lemon zest, so it tastes like a great cheesecake, just with the addition of fun rainbow colors.
Skip the box and whip up a batch of delicious granola bars at home! These chewy rainbow chip granola bars are so quick and easy, they're as much fun to make as they are to eat!
If you thought Starbucks Unicorn Frap was way too sweet, give this unicorn smoothie a try. It's made with veggies and fresh fruit and while it does have dairy in it, you can substitute it out if you need to.
Wanna see smiles at the breakfast table? Bust of this super cute unicorn cream cheese spread. Reese loves this stuff and adds it on bagels, waffles and even dips her pretzels into it. This is another way I get her to eat her raw veggies.
Fun and delicious for every age, this Unicorn Toffee is quick, simple, and super colorful! It is a great treat for everyone to enjoy!
These rainbow unicorn dessert cups feature blue mousse, marshmallows, whipped cream, and sprinkles. But the star of this dessert are the chocolate rainbow unicorn horns!
Making rainbow unicorn anything usually involves mixing colors. When we first tried cakes our colors all ran together and it just didn't look right. I discovered this recipe and it's my go-to whenever I want to mix colors for a cake. Swap the colors and add unicorn sprinkles and you have the perfect multi-color unicorn cake.
These unicorn popsicles are full of healthy ingredients and despite the bright colors, there's not a drop of food coloring insight. Your kids will love them and you'll love that they aren't full of sugars and dyes.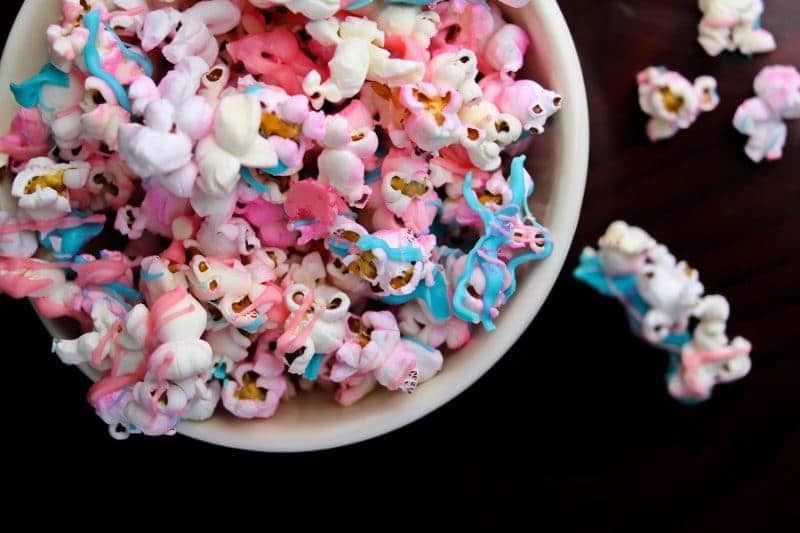 OMG, this is our go-to for movie night popcorn. It's a good mix of sweet and salty and the melted chocolate goes amazing with popcorn. We always end up making two bowls because neither of us wants to share.